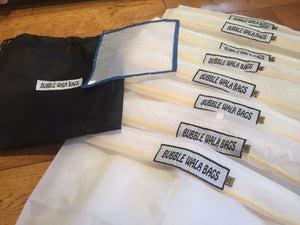 5 Gallon All Mesh Bubble Wala Bag Kit (5x8)
Regular price $52.00 Sale
The 5 x 8 Gallon All Mesh Bubble Wala Bags™ Ice Hydroponic Resin Extractor is an essential tool for any herbal extraction enthusiast. Made of durable all mesh nylon material, this kit is designed to help you get your herb/plant ready for extraction. The bonded nylon mesh ensures that the bags are sturdy enough to withstand rigorous use, making them the perfect addition to any hydroponic setup.

The All Mesh Bubble Wala Bags™ are faster at extracting than the standard bottom only mesh bags, thanks to their superior design. The bags come with different sized filters that are used for filtering different grades of herbal resins. This makes it easier to extract the different grades of resin from your plant material, allowing you to get the most out of your harvest.

Each bag is individually labeled according to its micron filter grade, making it easy to identify which bag to use for each extraction. The kit comes with bags in the following micron grades: 220, 190, 160, 120, 90, 73, 45, and 25. Additionally, the bags come with a built-in cord that makes it easy to bind the bag after extraction.

The All Mesh Bubble Wala Bags™ are incredibly simple to use and easy to clean. With their superior design and high-quality materials, these bags are a must-have for anyone looking to extract resin and other oils from their plant material.
You get 8 Bags of 5 Gallon size
Each bag has a different micron mesh size as stated below
220 micro
190 micron
160 micron
120 micron
90 micron
73 micron
45 micron
25 micron